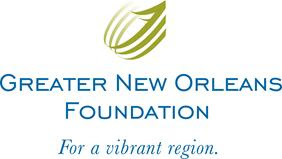 NEW ORLEANS – Tuesday, August 28, 2018, the Greater New Orleans Foundation and Design Jones, LLC will host the third citywide community workshop to get public input on possibilities for redeveloping the neighborhood surrounding the former Charity Hospital. The first two meetings brought out close to 300 participants over the past month. These community workshops are a part of the collaborative public engagement process that Design Jones, LLC is leading for the strategic planning process. Other efforts include stakeholder meetings as well as surveying residents, workforce, students, and commuters. Design Jones, LLC has extensive experience facilitating authentic community engagement around development and most recently led the creation of the Master Plan for the Claiborne Corridor Innovation District, an area immediately adjacent to the proposed Spirit of Charity Innovation District.
WHO: Greater New Orleans Foundation
Design Jones, LLC
WHAT: Spirit of Charity Innovation District Citywide Community Workshop
WHEN: Tuesday, August 28, 2018
6:00 p.m. – 8:00 p.m.
WHERE: University Medical Center
Conference Center J
2000 Canal St.
New Orleans, LA
https://www.facebook.com/greaterneworleansfoundation/